How Retailers Can Benefit!
Increase the lottery experience for players at your store and increase your sells!
Retailers Features:
Engage customers with these kool features.
Eye-catching lottery display
Our lottery display will make your customers go ah, woo, whoa, ooo, jaw drop, and much more.
START FOR FREE
Increase brand loyalty thru winner display
Show off your store winners and attract their friends and neighbors.
START FOR FREE
Show new tickets to increase sales
Our smart display will show new tickets automatically. You know lottery players want to play new tickets as the chance to win on these tickets are higher.
START FOR FREE
Informative to give customers better choices
Informed customers have higher chance to win, which in return make them more like to play at your store.
Auto-sort to states plan-o-gram to increase sales
You know the State Lottery Commission recommends how to set your scratch off tickets? Yes, they have a researched layout that can help increase sales.
Offer loyalty program
Offer players second chance drawing, second chance store drawing, and chance to win prizes from us (Lottery Display).
Show lottery selection online
(coming soon)
Display anywhere with the digital display (gas pump, key locations in the store)
Our display is portable and digital so you can place it anywhere.
Lottery Dashboard for Lottery display management
One place to manage all features (sales, inventory, ads, winners, and promotions).
Anti-theft, easy reporting to Lottery Officials
If your lotteries was every stolen you can use our back-end to get the information you need to create a report.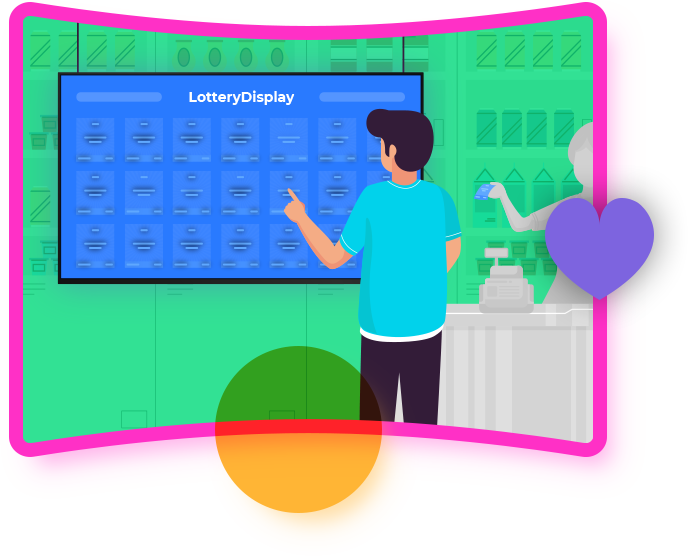 Digital Revolution is Coming!
Be first to capture loyal lottery players and be the talk of the town. Join the revolution and take your lottery sales to new levels.
START FOR FREE
Request a Demo
Lottery display with inventory management, ad management and all features. See all the features, get answers to your questions, and get your 1st month on us.
REQUEST A DEMO